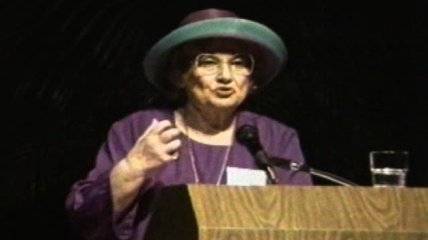 World Women's Congress for a Healthy Planet – Opening Ceremony
The World Women's Congress for a Healthy Planet, in Miami Florida, Nov. 8-12, 1991 
recorded by Let the People Speak, a project of the Foundation for a Compassionate Society.
More than 1500 women from over 80 countries assembled in Miami to discuss their vision of a healthy planet. The congress was convened to assure the participation of women in the 1992 United Nations Conference on environment and Development (UNCED) in Rio de Janeiro Brazil in 1992. These are exerpts from 4 days of Women voicing their concerns for the future of the planet.
Opening Ceremony
Keynote speakers (Excerpts)
Bella Abzug – cofounder of WEDO Women's Environment & Development Organization
Margarita Arias – President, Arias Foundation for Peace and Human Progress, Costa Rica
"We are living the present at the expense of the future".