The Maternal Roots of the Gift Economy Conference/Le radici materne dell'economia del dono
Presented by Center for the Study of the Gift Economy and International Feminists for a Gift Economy
Watch the conference videos now! Maternal Roots Conference videos
---
International Feminists for a Gift Economy – Position Statement for a Peaceful World
International Feminists for a Gift Economy is a group of feminist activists and academics from many countries, who meet irregularly and speak about the gift economy on panels at local and international gatherings. Read More>>
---
---
Gift Day (Dono Day)
Click here to see the short contest videos that schools in italy have done to say what gifting means to them.
Many of them are without words though some are in Italian. This is part of an initiative called Gift Day which will be celebrated Oct. 4. (There is still nothing about women or mothers though.)
---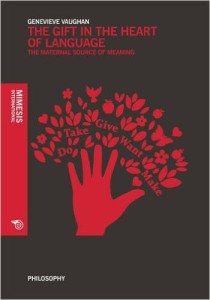 Genevieve Vaughan's new book
The Gift in the Heart of Language: The maternal source of meaning
is available now.
---
---