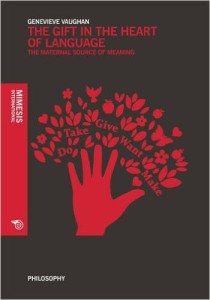 The Gift in the Heart of Language
The Maternal Source of Meaning
by Genevieve Vaughan, 2015
Published by Mimesis International
Genevieve Vaughan offers a paradigm-shifting view of the structure of material and verbal communication, based on mother- child experience and confirmed by recent research in infant psychology. This view justifies a relational epistemology that informs the material gift economy as well as the structure of language itself. Provisioning economies give value to the receivers, and the circulation of gifts consolidates community. Understanding language as verbal gifting unites other orientation with reason to liberate us from biopathic patriarchal conceptions of humanity. Sketched against this background Vaughan introduces a conception of monetized exchange as a giftdenying and expropriating psychological mechanism, which is an unintended collective by product of verbal communication. This view stands as a warning against visions of the future in which the institutions of money and the market can be "fixed"to be more caring, and sanitized business as usual can halt the destruction of Mother Earth. Rather a gift economy, which takes as its model the mother-child interaction, the gifting in language and the gifting in mother-centered societies provides hope for a positive future.
---
Reviews
Review by Kaarina Kailo
The Gift in the Heart of Language: the Maternal Source of Meaning by Genevieve Vaughan (Mimesis International 2015)
Genevieve Vaughan has published her third book regarding the revolutionary reality and transformative potential of the gift economy, a logic and matrix of practices that imply the liberation of both men and women. The new theory provides solutions to the most urgent need in neoliberal capitalist societies: to overturn the civilizational crises that capitalism and patriarchy have caused with the distortion and appropriation of the Gift. The Gift in the Heart of Language provides sobering, mind-altering and care-rational perspectives on the gift economy in all of its manifestations. Vaughan argues that the liberation of the gift model requires an end to the market and to patriarchy. This is necessary in order to create an egalitarian society that will function according to the maternal values that have for long been appropriated and redirected to serve the market, ego-oriented homo economicus and capitalistic accumulation. Gifting within the model of competition, domination and patriarchal power- over is a contradiction in terms and it can never bring about a peaceful society.
Vaughan's theoretical contribution consists in… Read More